.. ~BE WELCOME~ .. ~Home Sweet Home~ May load a little slow--numerous graphics.
POP-OUT PLAYERS You can pop out player from this site, & LISTEN AS YOU SURF the net. May load slow.
PRECIOUS MEMORIES ~ (Memory Lane) ~
GOD'S SWEET MIRACLE in an ABUSIVE Marriage
HOPE for the WOUNDED HEART
THE GIFT OF WOUNDEDNESS
ARE YOU ??-SURE-?? YOU'RE GOING TO HEAVEN?
DEAREST BELIEVERS: Are You ASLEEP in the LIGHT?!
END OF DAYS
THE REVELATION
~ LIBRARY/STUDY ~ Bible, Tools, Music, Lyrics, Misc., Abortion
ART GALLERY 1: Vintage Christian Masterpieces (Graphic intensive--please be patient as it loads.)
ART GALLERY 2: Vintage Children (Illustrations) Graphic Intensive--please be patient as it loads.
FREEBIES, Free Stuff, Links, etc.
CHUCKLES, GIGGLES, & Downright Silliness
... ~GAME ROOM~ ... (Takes a little longer to load)
DEZZY'S PAGE'S
PLEASE HELP SMALL CHRISTIAN SCHOOL
FAMILY PHOTO album
FEW SONGS (lyrics) the LORD gave me
ANTIQUE RADIO FOR SALE


"The Lord is close to the brokenhearted.
He rescues those who are crushed in spirit."
(Psalm 34:18)
(NOTE: background music can be paused below.)
You can smile, but inside
your heart is still in pieces....
CLICK HERE for: "The Gift of Woundedness"
CLICK HERE for: "Journey Answers" (Help for troubled times.)
(NOTE: background music can be paused below.)
"[Jesus] was despised and
rejected of men;
a man of sorrows,
and acquainted with grief..."
(Isaiah 53:3)
"The Spirit of the Lord GOD is upon Me (Jesus);
because the LORD hath anointed Me to
preach good tidings unto the meek;
He hath sent Me to bind up the brokenhearted,
to proclaim liberty to the captives,
and the opening of the prison to them that are bound;
...to comfort all that mourn;
...to give unto them beauty for ashes,
the oil of joy for mourning,
the garment of praise for the spirit of heaviness;
that they might be called trees of righteousness,
the planting of the LORD,
that He might be glorified…"
(Isaiah 61:1-3)
"Those who deserve love the least, need it the most."
"The LORD is compassionate and gracious;
slow to anger, abounding in love.
He will not always accuse,
nor will He harbor His anger forever;
He does not treat us as our sins deserve
or repay us according to our iniquities.
For as high as the heavens are above the earth,
so great is His love for those who fear Him;
as far as the east is from the west,
so far has He removed our transgressions from us.
As a father has compassion on His children,
so the LORD has compassion on those who fear Him."
(Psalm 103:8-13)
OF INTEREST:
Latin meaning of the word "COMPASSION", "cum pasio",
means: "TO SUFFER WITH"
"…weep with them that weep."
(Romans 12:15)


Jesus Feels Our Pain
I think that not only does Jesus understand what we go through because He's gone through it Himself--but I also believe that since He took our sins upon Him, and bore our hurts and pains on the cross, that He actually felt and can still feel each of our sins--not just empathizes--but feels them. In addition, the fact that His Spirit came into our hearts to live when we get saved, means that he feels our hurts and heartaches because He's there with us--we are joined, we are one.
He feels it as if it was directed at Him.
I believe that He weeps when we weep.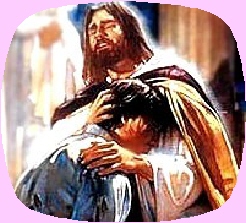 This reminds me of a little story I heard a long time ago. It goes something like this: A guy was recently saved, and was very enthused about his newfound faith. He was excitedly talking about Jesus one day, when someone came up to him, and used the Lord's name in vain. Suddenly, he thought to himself, "I can't let him say that about Jesus! I will defend the Lord!" And at that moment, He socked the guy in the eye! The next day, he was again sharing his faith, when someone else came up to him, and said that Christianity was "intolerant". Again, the zealous new believer, ran over to him, and punched him in the arm! This happened repeatedly over time. One night he had a dream and Jesus appeared to Him. When he saw Jesus, he ran excitedly to Him and said, "Lord! Lord! I've been really faithful to You. I defended You every chance I got!" The Lord had His back turned, and when He slowly turned around to face the guy, the zealous believer was shocked! For there was Jesus, with a black eye... there was Jesus with a painful bruise on His arm... there was Jesus bruised, battered, and wounded by the very believer that "defended" Him. Jesus simply answered, "...And the King shall answer and say unto them, Verily I say unto you, Inasmuch as ye have done it unto one of the least of these my brethren,
ye have done it unto Me." (Matthew 25:40.)
And when we feel alone, like there's no one there to care,
Jesus does.
We have Somebody's that praying for us.
Our Lord Jesus is the Intercessor and goes to the Father on our behalf.
Yes, Jesus sees, feels, and intimately knows our pain...
He wore them on the cross.
Love,
Song
CLICK HERE for: Somebody's Praying, By Ricky Skaggs
Links for: WHY DOES GOD ALLOW SUFFERING?
"For [the Lord] does not willingly bring affliction or grief
to the children of men."
"...who through faith are shielded by God's power
until the coming of the salvation
that is ready to be revealed in the last time.
In this you greatly rejoice, though now
for a little while you may have had to
suffer grief in all kinds of trials.
These have come so that your faith—of greater worth than gold,
which perishes even though refined by fire—may be proved genuine
and may result in praise, glory and honor when Jesus Christ is revealed."
(1 Peter 1:5-7)
CLICK here to hear: [Gonna be] Worth it all-- Rita Springer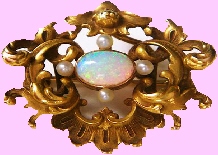 And they shall be mine,
saith the LORD of hosts,
in that day when I make up my jewels;
and I will spare them
as a man spareth his own son
that serveth him.
(Malachi 3:17)
"It was not by their sword
that they won the land,
nor did their arm
bring them victory;
it was YOUR right hand,
YOUR arm, and
the light of Your [sweet] face,
FOR YOU LOVED THEM."
Type in subject line "PRAYER or COUNSEL"
Or it may get deleted as SPAM

CLICK HERE to go to forward to next page: The Gift of Woundedness.
CLICK HERE to go back to previous page: God's Sweet Miracle...
(NOTE: background music can be paused below.)



DISCLAIMER:
Contents of each individual websites
within the following (Ringsurf) webrings below,
may or may not, be the beliefs or doctrine
of songweaver4Him, or this website.
Listing them does not necessarily constitute my endorsement.
NOTE:
FYI: I made the "falling tears", out of diamond grahics off the Internet,
and used a "falling object generator" that you can also download from the net.
(I think that's perfectly fitting, though His tears are far more precious than jewels... eh?)
Note: If any of the material is not public domain, let me know
and I will remove it, or happily give credit where credit is due.
*(Except for my individual own song copyrights,
which were copyrighted on other dates, and/or other copyrighted material by others.)