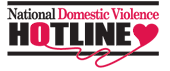 If something about your relationship with your partner
scares you (or affects your self-esteem),
or if you need to talk,
please call the
National Domestic Violence Hotline at:
1-800-799-SAFE (7233)
or TTY 1-800-787-3224.
Help is available to callers 24 hours a day, 365 days a year. Assistance is available in English and Spanish with access to more than 170 languages through interpreter services.
Steven Curtis Chapman Lyrics:
"Well, who is this angry man I see
In the mirror looking back at me?
It's a man who's tired, a man who's weak
And it's a man who needs a Savior."